What the EcoDiesel Emissions Settlement Means for Grand Cherokee Owners
Posted on

Author

Tagged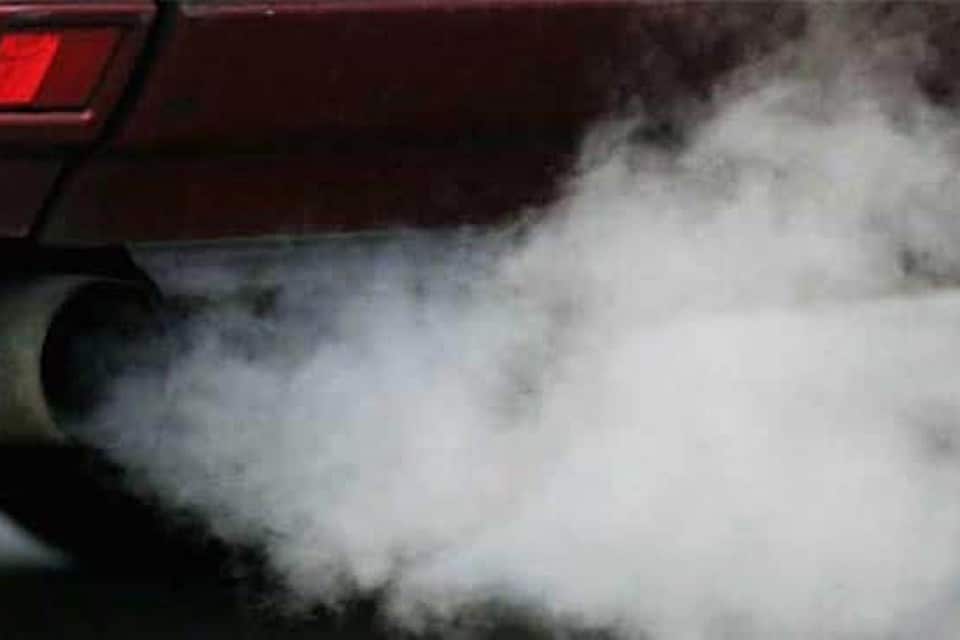 FCA has been facing accusations of intentionally using emissions control software, known as a "defeat device", in certain EcoDiesel engines since 2016.
A California lawsuit first identified that EcoDiesel engines were producing 10x the legal limit of nitrogen oxide. This was around the same time the government was cracking down on VW for cheating on their diesel emissions.
In May of 2017, with the writing on the wall, FCA filed an application to the government with a proposed fix for their EcoDiesel transgressions. It was too little, too late.
The Department of Justice sued FCA for installing and concealing emissions control software in the following vehicles:
| Make | Model | Years | # of Vehicles |
| --- | --- | --- | --- |
| Jeep | Grand Cherokee | 2014-2016 | 25,542 |
| Ram | 1500 | 2014-2016 | 78,286 |
FCA decided to settle the lawsuit in January of 2019.
Failure to Disclose AECD ∞
Both FCA and VW were using auxiliary control emissions devices (AECDs) which alters how a vehicle's emissions system functions.
AECDs are perfectly legal when properly disclosed because they can be used to prevent engine damage in certain driving situations.
However, because AECDs can be used to manipulate emissions output they need to be disclosed to the Environmental Protection Agency (EPA) as part of the "Clean Air Act."
Settlement Details ∞
By not disclosing their use on an AECD, FCA will pay over $800 million in fines and compensation.
As part of the settlement, FCA will pay a civil penalty of $305 million, $19 million to state of California, $6 million to U.S. Customs and Border Protection, and $72.5 million to various state attorneys general.
Some of those fines will rise if they don't meet certain obligations, such as the recall and repair of the 100,000 affected vehicles. FCA must also implement a pollution mitigation program to offset the excess pollution produced by these vehicles.
An auditor will be hired to monitor progress on the recall and mitigation program for the next three years.
What the settlement means for owners ∞
Most importantly, all 2014-2016 EcoDiesel Jeep Grand Cherokee and Ram 1500 customers who on January 12, 2017, owned or leased Ram 1500 or Jeep Grand Cherokee 3-liter diesel vehicles will be eligible for the following benefits.
Compensation offer ∞
Any current owner may be eligible to receive a payment of $2,460 to $3,075, based on other valid claims made on the same vehicle.
Former owners and lessees are eligible to receive $990.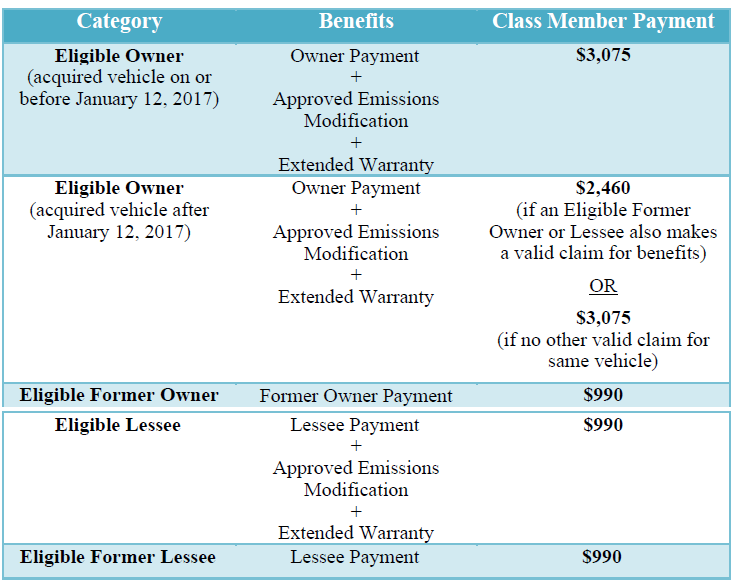 Extended warranty on fuel and exhaust system components ∞
Along with the emissions fix, FCA will extend the warranty on certain parts to 10 years[1] or 120,000 miles. The extension will cover the cost of parts and labor on a number of lines, sensors, and valves.
Catalysts, Diesel Oxidation Catalyst/Diesel Particulate Filter (DPF) Assembly, Selective Catalytic Reduction (SCR) Catalyst, Diesel Exhaust Fluid (DEF) System, DEF Injector, DEF Injector Controller, DEF Storage Tank, DEF Delivery Lines, DEF Concentration Sensor (2016 Model Year Ram 1500 and Jeep Grand Cherokee only), DEF Supply Module, Pump, & Temperature Sensor Unit, Low Pressure Fuel Pump Module & Level Unit, Fuel Injectors, Fuel Rail, High Pressure Fuel Line, High Pressure Injection Pump & Regulator Unit, Parts of the Exhaust Gas Recirculation (EGR) System, EGR Cooler Tubes, EGR Cooler, EGR Valve, EGR Temperature Sensor, EGR Cooler bypass actuator, Oxygen Sensors, NOx Sensors, ntake Manifold Pressure Sensor, Engine Coolant Temperature Sensor, Fuel/Water Separator Sensor, Intake Swirl Actuator Sensor, Engine Camshaft Position Sensor, Engine Crankshaft Position Sensor, Particulate Matter Sensor, Mass Airflow Sensor, Boost Pressure Sensor, Crankcase Pressure Sensor, Exhaust Manifold Pressure Sensor, Throttle Valve, Exhaust Temperature Sensor, DPF Differential Pressure Sensor, Engine Control Module (Computer), Transmission Control Module (Computer), Valve Body & Solenoids, Throttle Valve, Cylinder Head Assembly, including Valves, Springs, Valve Spring Keepers, Valve Seats, Cam Bearing Caps and Manifold Studs (Camshaft and other components of the assembly are not covered), Engine Thermostat/housing/gasket, The turbocharger system including all related hoses and pipes, all sensors and actuators
FCA's Response ∞
Despite the settlement, FCA has denied any wrongdoing. They say comparing what they've done to Volkswagen's situation is "nonsense."
On that second point, I mostly agree. Volkswagen's scandal was much larger in scope and happened over a longer time period. Volkswagen was also particularly brazen in their "Clean Diesel" campaign and scoffed at the idea of using any urea-based solution to reduce NOx levels.
But FCA loses me a bit when trying to cite technicalities.
"The dispute that is going on now between the EPA and the FCA is whether the calibration that was filed was a calibration that met all regulations." –– Sergio Marchionne, CEO of FCA
FCA says it has provided documents and information to regulators in order to explain the emissions control technology. They added their diesel engines are equipped with "state of the art emission control systems hardware, including selective catalytic reduction (SCR)."
New software was eventually added to the emissions controls were added to satisfy the EPA and CARB.
In my opinion, this feels like a kid getting caught with their hand in the cookie jar, then saying "Hey, there's no problem – I can just put the cookie back. See ... solved!"
---
10 years from the date of the initial sale of the vehicle ↩︎
Generations Where This Problem Has Been Reported
This problem has popped up in the following Jeep generations.

Most years within a generation share the same parts and manufacturing process. You can also expect them to share the same problems. So while it may not be a problem in every year yet, it's worth looking out for.
4th Generation Grand Cherokee

Years

2011–2021

Reliability

18th out of 18

PainRank™

44.96

Complaints

1951

Learn more about the 4th Generation Grand Cherokee
OK, Now What?
Maybe you've experienced this problem. Maybe you're concerned you will soon. Whatever the reason, here's a handful of things you can do to make sure it gets the attention it deserves.
File Your Complaint

CarComplaints.com is a free site dedicated to uncovering problem trends and informing owners about potential issues with their cars. Major class action law firms use this data when researching cases.

Add a Complaint

Notify CAS

The Center for Auto Safety (CAS) is a pro-consumer organization that researches auto safety issues & often compels the US government to do the right thing through lobbying & lawsuits.

Notify The CAS

Report a Safety Concern

The National Highway Traffic Safety Administration (NHTSA) is the US agency with the authority to conduct vehicle defect investigations & force recalls. Their focus is on safety-related issues.

Report to NHTSA