The Dreaded Death Wobble
Posted on

Author

Tagged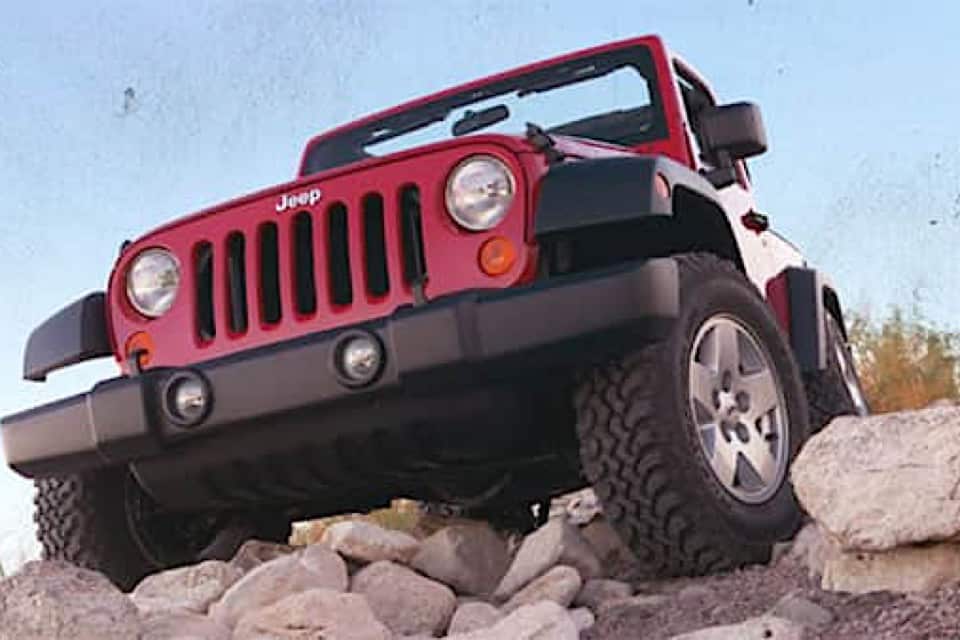 The "death wobble" is a creative term coined by Jeep owners that describes a situation when the front axle begins violently oscillating, causing the car to shake (or wobble) in a manner which makes the vehicle hard to control.
What the Wobble? ∞
The death wobble is a simple problem without a simple solution. Essentially the wobbling is your suspension system is out of equilibrium. Unfortunately there are many areas in the suspension system, including the tires and the body, that could be causing the problem:
Poor alignment: If you're experiencing the wobble and haven't had your alignment checked, this is the first thing you should do.
Unbalanced Tires: Tires that are unbalanced can start throwing the axle around and the only way to stop the wobble is by slowing down.
Ball Joints: Worn ball joints can allow the wheel to move laterally and independently of the opposite wheel. These should be replaced regardless, worn ball joints are very dangerous in any vehicle.
Steering Stabilizer Bar: A steering stabilizer that is loose may lead to the death wobble.
Why is This a Problem in Jeeps? ∞
Many Jeeps are coil-sprung with a track bar setup and secondly, a lot of Jeep owners get their Jeeps lifted or modified or have after-market track bars installed. Jeep models affected by this design are: the Cherokee, Grand Cherokee and Wrangler. If it's any consolation (I know it's not) this problem also occurs in some Jeep and Dodge trucks, especially older Broncos.
Fixing the Wobble ∞
Obviously, to fix the wobble you need to know what's causing it. The best way to do that (although frustrating) is to go through the common causes one-by-one until you find it. Let's start small and work our way up:
Start with a quick visual inspection under the front end of the vehicle. Look for shiny or damaged steel, indicative of metal that's moving around.
Check to make sure all bolts are tightened on the front track bar
Check the tires since they typically break down faster and are more prone to storing and releasing the energy that causes the wobble. Are they properly balanced and inflated to the manufacturer's suggested PSI? Did you recently have them balanced? You might try bringing the car back and asking them to make sure the balance is still true.
After that check the front wheel bearings by jacking the the front tires off the ground, grabbing the top and bottom of the tire and trying to wiggle it back and forth. If you notice any lateral give you might want to have a mechanic check those bearings for you.
Look for loose connections in the tie rod ends and drag link ends.
Has your Jeep been lifted? Might want to check the front axle casters.
If all else fails, you might need a new steering stabilizer. Although if you do replace the stabilizer you might want to replace other components as well since the death wobble shakes everything and can loosen other components as well.
Generations Where This Problem Has Been Reported
This problem has popped up in the following Jeep generations.

Most years within a generation share the same parts and manufacturing process. You can also expect them to share the same problems. So while it may not be a problem in every year yet, it's worth looking out for.
What Owners Say About This Problem
I have it every day on the highway between 45 - 60 MPH when the jeep hits some bumps or expansion joints on the highway. It shakes like hell. I usually do not drive in that speed range. I go faster or slower. I also avoid lanes on the highway with a lot of bumps where the death wobble has occurred in the past. Jeep needs to fix this for free immediately!!!
Everything was fine on my 2007 Jeep Wrangler Unlimited until I hit a pot hole on day and the Jeep started shaking outrageously bad. I thought the wheels would break off and I was going to crash. I never felt a vehicle do anything so violent. After that it would happen a lot anywhere above 65mph or a bump over 35mph. I replaced the inner and outer tie rods and it was fine for a little while. Then it started again on bumps over 65mph.
OK, Now What?
Maybe you've experienced this problem. Maybe you're concerned you will soon. Whatever the reason, here's a handful of things you can do to make sure it gets the attention it deserves.
File Your Complaint

CarComplaints.com is a free site dedicated to uncovering problem trends and informing owners about potential issues with their cars. Major class action law firms use this data when researching cases.

Add a Complaint

Notify CAS

The Center for Auto Safety (CAS) is a pro-consumer organization that researches auto safety issues & often compels the US government to do the right thing through lobbying & lawsuits.

Notify The CAS

Report a Safety Concern

The National Highway Traffic Safety Administration (NHTSA) is the US agency with the authority to conduct vehicle defect investigations & force recalls. Their focus is on safety-related issues.

Report to NHTSA