Gas Geyser! Why Does the Wranger Spit Out Fuel?
Posted on

Author

Tagged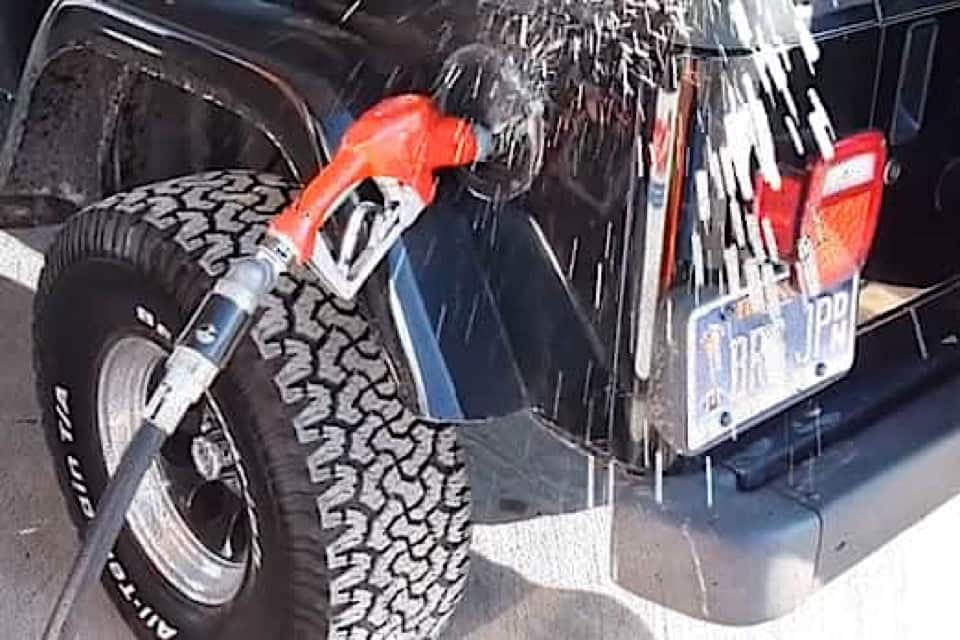 Jeep owners are up in gasoline-covered arms about how fuel overflows from their tank during the refueling process. The fuel system does not seem to respond to the shut-off mechanism, which means gas spills out onto the ground, the car and even the owner. This isn't a simple little fuel leak either, this is more like a fuel geyser.
Not the First Gas Spilling Rodeo for Chrysler ∞
Chrysler has seen this problem in the past. In 2009, they recalled 45,000 Dodge Durangos because an inlet check valve in the fuel tank filler tubes could get stuck. They reportedly resolved the issue with their fuel-tank supplier and went on to deny that there was any such problem with Jeeps despite a mounting number of complaints to NHTSA[1]. Denial is which step of the 12-step program?
The automaker went so far as to point a finger at owners using gasoline with high ethanol levels, stating:
"Chrysler testing shows that a plastic 'O' ring on the inlet check valve – the part that's supposed to stop the fuel from coming out – swells when it's soaked in 22%, 50%, 85% or 100% ethanol."
So it couldn't possibly be that you just cheaped out on the O-ring, right guys? They also blamed owners for continuing to fill the tank after the automatic shut off kicks in.
NHTSA Investigation ∞
NHTSA closed an investigation into the fuel leak problems in the 2007-2008 Jeep Wrangler after seven months of testing. Amazing, the safety agency determined there there was no need for a recall, writing off the complaints as nothing more than "internet-related publicity", saying:
"Although the rate of complaints reported to the agency on the subject vehicles is higher than or similar to the rates experienced in previous investigations where safety recalls were conducted, ODI suspects that NHTSA safety complaints submitted by subject vehicles owners may have been influenced by internet related publicity both before and during this investigation.
A safety-related defect trend has not been identified at this time and further use of agency resources does not appear to be warranted. Accordingly, this investigation is closed."
Why should it matter if the complaint came from online forums, YouTube or a site like CarComplaints.com? A problem trend is a problem trend no matter where the reports come from.
Owners Speak Out About the Gas Overflow Problem ∞
Despite resistance from both Chrysler and NHTSA, Jeep owners like Rod LaFleur continue to make their voices heard. LaFleur has posted videos to YouTube and started a Facebook group dedicated to the problem.
Other owners just want someone from Chrysler to come with them when they're filling up to see if they can deny the problem then:
"This problem has gone on ever since we purchased the car. This is definitely something that could very well cause someone to get hurt or dead. I understand the NHTS has "Reviewed" the Complaint and determined that there is not a problem. Please let them come with me the next time I fill up so I can determine that it's all a figment of my Imagination."
Is Chrysler Doing Anything to Fix the Problem? ∞
Chrysler Group LLC has agreed to initiate a lifetime warranty program to address the accidental fuel spillage issue in 135,000 2007-2008 Jeep Wrangler vehicles built from March 2007-March 2008. I guess the rest of you are just out of luck?
Chrysler will notify all affected vehicle owners of this action. Consumers should refer to the warranty and service bulletins and sample owner notification letter available in the investigative file. The vehicle build date can be found on the certification label located on the driver door or door jamb.
---
Generations Where This Problem Has Been Reported
This problem has popped up in the following Jeep generations.

Most years within a generation share the same parts and manufacturing process. You can also expect them to share the same problems. So while it may not be a problem in every year yet, it's worth looking out for.
OK, Now What?
Maybe you've experienced this problem. Maybe you're concerned you will soon. Whatever the reason, here's a handful of things you can do to make sure it gets the attention it deserves.
File Your Complaint

CarComplaints.com is a free site dedicated to uncovering problem trends and informing owners about potential issues with their cars. Major class action law firms use this data when researching cases.

Add a Complaint

Notify CAS

The Center for Auto Safety (CAS) is a pro-consumer organization that researches auto safety issues & often compels the US government to do the right thing through lobbying & lawsuits.

Notify The CAS

Report a Safety Concern

The National Highway Traffic Safety Administration (NHTSA) is the US agency with the authority to conduct vehicle defect investigations & force recalls. Their focus is on safety-related issues.

Report to NHTSA