Exposed Gas Tank is a Rear Collision Timebomb
Posted on

Author

Tagged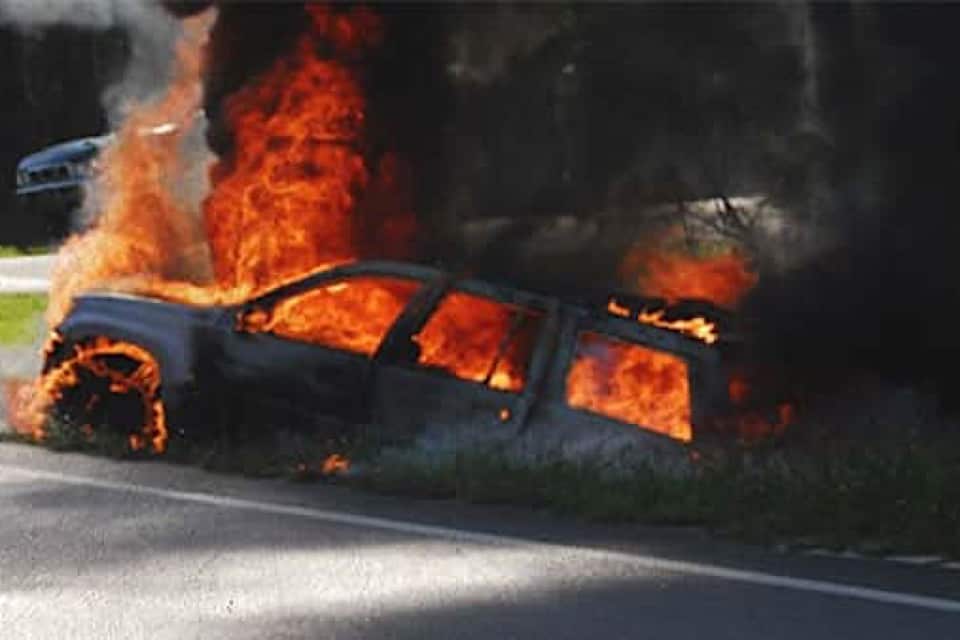 Is Chrysler ignoring a dangerous design flaw? ∞
Jeep owners continue to wait for recalled parts that safety advocates agree do nothing to fix the problem. In other words, just another typical day in Chrysler's world. Millions of Jeep vehicles have a gas tank that is positioned in such a way that it is highly vulnerable to being punctured during a rear-impact accident. The combination of leaking fuel and sparks caused by collisions can easily set the car ablaze, prompting a government investigation and a muted recall that sparked a whole lot of controversy.
A Compromised Recall of Jeeps ∞
In June, 2012, NHTSA[1] announced an investigation into rear-impact gas tank fires in Jeep vehicles would be expanded to include 5 million vehicles. The following year, NHTSA asked Chrysler to recall 2.7 million Grand Cherokees which were found to be the most vulnerable to fires. At the time we called it a victory for consumers, but now that some time has passed it turns out we were wrong. Here's why.
Chrysler Dodges the Issue ∞
Chrysler initially refused the government's recall request, stating their vehicles were perfectly safe, but caved a few weeks later in June of 2013. In a brash move, however, Chrysler opted to recall only 1.5 million of the 2.7 million vehicles requested by NHTSA.
Chrysler's idea for the limited recall "fix" is to install trailer hitches on certain model year 1992-98 Grand Cherokees and 2002-07 Liberty vehicles. One big problem: research shows the trailer hitch is essentially useless in high-speed rear-impact crashes. As far as low-speed crashes are concerned, even Chrysler admits the hitch will only provide "incremental improvement in the crash energy management."
To make matters worse, some of the Jeep vehicles that had already been involved in rear-impact fires already had a trailer hitch installed. Some good it did those owners.
So, if you're keeping score at home, Chrysler:
NHTSA Responds in an Odd Way ∞
Oddly enough, NHTSA seems quite content in Chrysler's actions:
"The National Highway Traffic Safety Administration is deeply committed to reducing the number of deaths and injuries on our nation's roadways. Throughout this process, the agency has been in close communication with Chrysler and has no reservations at this time with their announced actions to move forward."
The Center for Auto Safety Speaks Against the Jeep "Fix" ∞
At least someone out there isn't buying the BS. The CAS[2] has continued to lobby that all 5 million vehicles in the original investigation should be recalled and a new fix needs to be implemented.
The numbers from CAS research are harsh: 478 people have died in 349 fatal car crashes due to the location of the fuel tank behind the rear axle.
Clarence Ditlow, Director at the CAS, has called out the NHTSA and Chrysler calling the recall a sham:
"It is tragic that NHTSA approved Chrysler's sham trailer hitch recall for Jeeps that explode in rear impacts. NHTSA Administrator David Strickland will be remembered as the Administrator who took a job with one of Chrysler's law firms rather than save more children like Cassidy Jarmon from burning to deaths in Jeeps with trailer hitches."
A Defective Gas Tank Design ∞
So what makes these vehicles so dangerous? According to multiple reports it's the gas tank which is a dangerous combination of:
Materials: Made of cheap plastic
Location: Tucked between the rear axle and bumper
Height: Higher clearance vehicles mean a tank that hangs lower than most.
According to many, this is a formula for disaster.
NHTSA says rear-impact-related gas tank failures and vehicle fires are more common in the Grand Cherokee than in the similar non-Jeep vehicles such as the Chevrolet Blazer, Ford Explorer, and Toyota 4Runner. The agency believes at least 24 rear-end collisions have resulted in fires, some deadly.
The CAS takes says that at least 55 people have died in crashes were fire was the primary cause of death. They have been keeping track of fatal fire crashes in 1993-2004 Jeep Grand Cherokees and made that data accessible on their website.
Something Needs to Be Done ∞
One grieving mother told CarComplaints.com that she lost her beautiful 32-year-old daughter in a 2004 Jeep Liberty fire.
"She was rear-ended on Interstate-10 by a man driving a Ford F-150 pick-up truck. The vehicle she was driving, a 2004 Jeep Liberty, burst into flames upon impact and my daughter was burned to death," said Harriot, of Metairie, Louisana. "Since my daughter's death, I have learned that this same thing has happened before and Chrysler has had numerous law suits that were settled out of court."
Harriet went on to describe the same problem the NHTSA is investigating, mainly the location of the gas tank.
"The fuel tank and filler neck on the Jeep Liberty (and Jeep Grand Cherokee) was designed and installed in a location (behind the rear bumper) that is susceptible to rupture or puncture in a rear-end collision," Harriet said. "When gasoline escapes from a ruptured or punctured fuel tank, a high risk of fire and explosion exists."
CAS has said that children as young as four years old have been burned to death after a rear-end collision.
In one case, four-year-old Cassidy Jarmon was killed despite riding in a child seat to protect her when the 1993 Jeep Grand Cherokee driven by her mother was struck from behind and burst into flames. In another tragedy, four-year-old Remington Cole Walden was killed despite riding in a child booster seat to protect him when the 1999 Jeep Grand Cherokee driven by his aunt was struck from behind and engulfed in flames.
This Generation's Jeep Pinto? ∞
In the late 1970's the Jeep Pinto was made famous for tales of exploding into flames. Clearly that is not the type of publicity Chrysler, parent company of Jeep, wants to be receiving for the Grand Cherokee. In an ABC news report the automaker said that accidents leading to fires are "very rare" and that the popular SUV meets all government safety standards and regulations. When asked why Chrysler changed the design of their Grand Cherokee in 2005 by moving the gas tank to the front of the rear axle, they simply said it that was to make more cargo room and didn't have anything to do with safety concerns.
---
Generations Where This Problem Has Been Reported
This problem has popped up in the following Jeep generations.

Most years within a generation share the same parts and manufacturing process. You can also expect them to share the same problems. So while it may not be a problem in every year yet, it's worth looking out for.
1st Generation Grand Cherokee

Years

1993–1998

Reliability

7th out of 18

PainRank™

5.32

Complaints

159

Learn more about the 1st Generation Grand Cherokee

1st Generation Liberty

Years

2001–2007

Reliability

14th out of 18

PainRank™

22.44

Complaints

1813

Learn more about the 1st Generation Liberty
OK, Now What?
Maybe you've experienced this problem. Maybe you're concerned you will soon. Whatever the reason, here's a handful of things you can do to make sure it gets the attention it deserves.
File Your Complaint

CarComplaints.com is a free site dedicated to uncovering problem trends and informing owners about potential issues with their cars. Major class action law firms use this data when researching cases.

Add a Complaint

Notify CAS

The Center for Auto Safety (CAS) is a pro-consumer organization that researches auto safety issues & often compels the US government to do the right thing through lobbying & lawsuits.

Notify The CAS

Report a Safety Concern

The National Highway Traffic Safety Administration (NHTSA) is the US agency with the authority to conduct vehicle defect investigations & force recalls. Their focus is on safety-related issues.

Report to NHTSA