Jeep's Electronic Swaybar Won't Reconnect for Highway Driving
Posted on

Author

Tagged
Key Points
Some Jeep vehicles have an electronically controlled sway bar that can be disconnected from inside the vehicle for optimum off-road performance.
The system's electronics aren't properly protected from water and are suceptible to even normal rainy conditions.
A class-action lawsuit says Stellantis ignores the problem despite complaints going all the way back to the 2005 model year.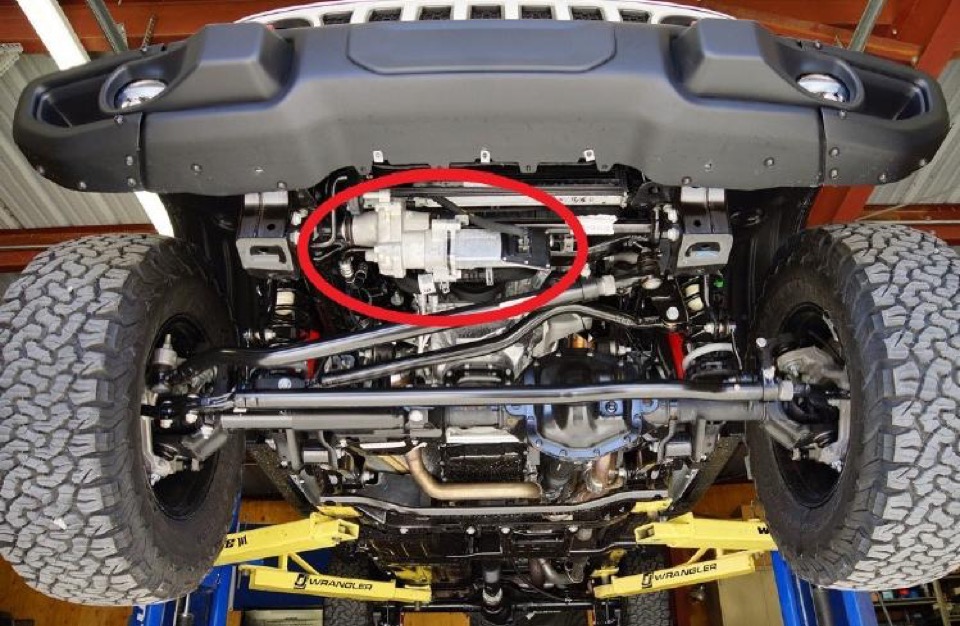 Make room, death wobble, you're not the only terrible Jeep suspension problem out there. Consider the electronic sway bar disconnect system that's great until you drive through a puddle and fry the system's electronics.
What Is An Electric Swaybar Disconnect System? ∞
A sway bar (or stabilizer / anti-roll bar) is a suspension component that helps keep the vehicle level and prevemt sexcess sway through turns. It's great for the road, but by design it reduces the articulation you'd want in a really good off-road suspension.
However an off-road tuned suspension without a sway bar can feel pretty squishy on the road.
Jeep's solution? An electronically controlled sway bar that can be disconnected and reconnected by a button inside the cabin. Neat. It's perfect for off-road enthusiasts who also need a reliable and smooth ride to work.
Where things go wrong ∞
To make it all work, there are circuit boards and electronic actuators to control the sway bar. And for some reason, Stellantis (formely Fiat-Chrysler) went with a stunningly bad design that fails to protect those sensitive electronics because:
The electronic housing has defective seals that fall apart.
There is limited circuit board electrical insulation.
In the end, vehicles that were advertised to have a water fording depth of 30" end up soaking the sway bar controller in everyday puddles on a rainy day. Not so neat.
What happens when the system fails ∞
Ultimately, owners are left with whatever sway bar setting they had when the system failed. And for those stuck with the system disconnected, that can create a little less confidence and a loss of control when driving on the highway or curvy roads.
Owners get stuck with the repairs ∞
And for that extra kick to the tailpipe, a new disconnect control module runs owners about $1,500 before labor. And anyone looking to be proactive and replace the gaskets before they wear out might be stunned to learn there's no OEM gasket set.
Vehicles with electronic sway bar problems ∞
2007-2017 Jeep Wrangler Rubicon ("JK")
2007-2017 Jeep Wrangler Unlimited Rubicon ("JKU")
2018-2020 Jeep Wrangler Rubicon ("JL")
2018-2020 Jeep Wrangler Unlimited Rubicon ("JLU")
2020 Jeep Gladiator Rubicon
2005-2010 Dodge Ram 2500 Power Wagon
2011-2020 Ram 2500 Power Wagon
Why Hasn't Anything Been Done? ∞
A sway bar lawsuit says the system is defective and Stellantis should establish a program to repair the problem.
The plaintiffs sought a nationwide class-action status but that was shot down by a judge in April 2021. And while the judge said that statements made in advertising, such as the 30" water fording depth, are not applicable to express warranties the case can move forward based on other warranty claims.
Lawsuits Regarding This Problem
Lawsuits about this problem have already been filed in court. Many times these are class-action suits that look to cover a group of owners in a particular area. Click on the lawsuit for more information and to see if you're eligible to receive any potential settlements.
The judge ruled the plaintiffs lack standing to bring claims on behalf of a nationwide class of vehicle owners, therefore nationwide class action allegations are dismissed.

A Jeep sway bar lawsuit alleges the electronic disconnect fails and forces the owner to drive their Jeep or Ram vehicle on highways and roads without the sway bar, creating dangerous driving conditions.
Generations Where This Problem Has Been Reported
This problem has popped up in the following Jeep generations.

Most years within a generation share the same parts and manufacturing process. You can also expect them to share the same problems. So while it may not be a problem in every year yet, it's worth looking out for.
1st Generation Gladiator

Years

2020–2020

Reliability

2nd out of 18

PainRank™

0.77

Complaints

5

Learn more about the 1st Generation Gladiator

3rd Generation Wrangler

Years

2007–2017

Reliability

17th out of 18

PainRank™

34.02

Complaints

1590

Learn more about the 3rd Generation Wrangler
OK, Now What?
Maybe you've experienced this problem. Maybe you're concerned you will soon. Whatever the reason, here's a handful of things you can do to make sure it gets the attention it deserves.
File Your Complaint

CarComplaints.com is a free site dedicated to uncovering problem trends and informing owners about potential issues with their cars. Major class action law firms use this data when researching cases.

Add a Complaint

Notify CAS

The Center for Auto Safety (CAS) is a pro-consumer organization that researches auto safety issues & often compels the US government to do the right thing through lobbying & lawsuits.

Notify The CAS

Report a Safety Concern

The National Highway Traffic Safety Administration (NHTSA) is the US agency with the authority to conduct vehicle defect investigations & force recalls. Their focus is on safety-related issues.

Report to NHTSA